The Tangkoko Conservation Education program (TCE) is part of the Macaca Nigra Project and conducts various events with schools, government agencies and other NGOs. Environmental education is the key to sustainable conservation. We therefore inform and educate local pupils and adults of all ages using the crested macaque as an icon animal. Most importantly, we collaborate with local authoritites. Our teaching material is already integrated in the curriculum of several schools on North Sulawesi.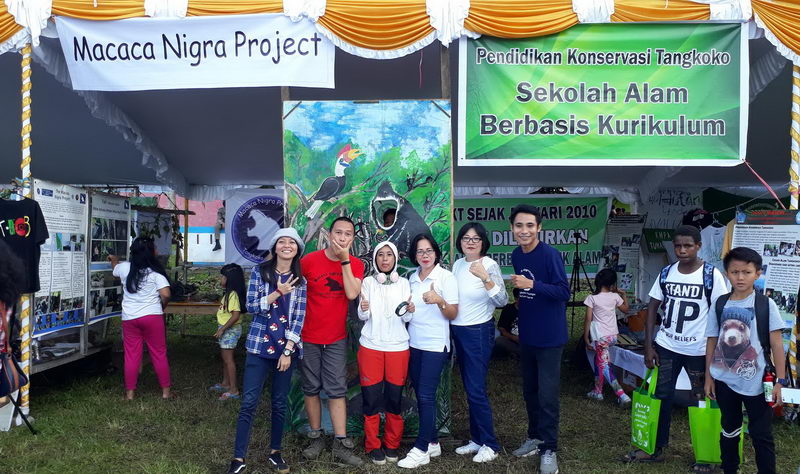 School activities
As last years, TCE has also been impacted by school closures, online teaching, imposed small groups of pupils at schools
and limited travel between different districts, all restrictions put in place because of Covid-19, thereby reducing its
activities. But we were still able to deliver regular environmental education
sessions in local primary and secondary schools (6 interventions in class and one trip to the Tangkoko forest) within 10
classes for a total of 120 pupils aged 10 to 16 living in the Bitung region. Since September 2021, we have started our
11th school year for 88 pupils from 8 local schools.
Awareness campaign
These included a celebration of Earth Day through a tree planting session and beach cleaning event (22nd April, in
Batu Putih) and World Clean-up Day through forest and beach cleaning (18th September, Tangkoko Tourism Area and
Nature Reserve). Here is a TV coverage about Earth Day
Science camp
Thanks to the support of the Hermsen-Foundation, we could welcome 10 students from the 11th Grade of 4 Negeri Senior High School in Batu Putih for the second edition of the Science Camp: a week of immersive research and conservation training at the MNP research station. Between the 24th of October and the 7th November 2021, the students (5 boys and 5 girls) learnt different field and scientific methods and research tools. For example, they ran experiments about the effect of detergent on the environment, notably water characteristics, and learned about stingless bee farming. In addition, they took time to observe the macaques in the forest and collect data about their behaviour. In the camp, they followed environmental lessons and met several local conservation partners (for example, Tasikoki Wildlife Rescue and Education Centre, Selamatkan Yaki). In January 2022, a symposium will be organised in the town and all participants will share their knowledge about biology, ecology, and macaque behaviourwith the local community.